coverdale clinics
Making patients feel at home for over 20 years
Our Coverdale Clinics provide patients with a safe, comfortable environment to receive specialty medications by infusion or injection. We take a personalized approach to patient care that includes education and counselling to better support medication adherence and help achieve the best outcomes possible.
work with us


Experience you can trust
Specialty drug therapies administered with care
Our nurse-led clinics are staffed by a team of registered nurses with extensive experience in administering specialty and biologic drugs intravenously (IV), subcutaneously (SC) and intramuscularly (IM). To ensure patient safety, each clinic is fully equipped to handle medication-related issues with emergency equipment on-site and nurses trained in handling side effects or adverse reactions. We forge close relationships with our patients and their caregivers, monitoring their health and documenting their conditions, connecting with their team of health care professionals to coordinate the best care.
Putting patients first
Patients starting a complex specialty drug therapy often have concerns about how regular infusions or injections will affect their lives. We take the time to answer their questions, provide practical and emotional support and advocate on their behalf — we'll even help arrange for care if they're travelling out of town. By acting as a true partner in care, we help patients feel more at ease with their treatment.
More than just a clinic
With more than 100 clinics nationwide and a team of over 400 nurses, we provide compassionate patient care and support for thousands of Canadians with chronic illnesses and rare diseases. Our clinics are designed according to Canadian best practice guidelines such as the Canadian Vascular Access Association (CVAA) and BC Cancer Agency, and are conveniently located near urgent care centres.
Beyond administering infusions and injections, we add value and convenience by carrying out routine blood tests and other specialty testing at the time same time. Our facilities are designed to provide an inviting, relaxing environment where patients can feel at home the moment they walk in the door. We offer patients convenient, flexible appointment scheduling and provide complimentary Wi-Fi, snacks and more.
Take a tour of a Coverdale Clinic
To download a PDF of all of our clinic locations, click here.
To search for a clinic using our interactive map, click here.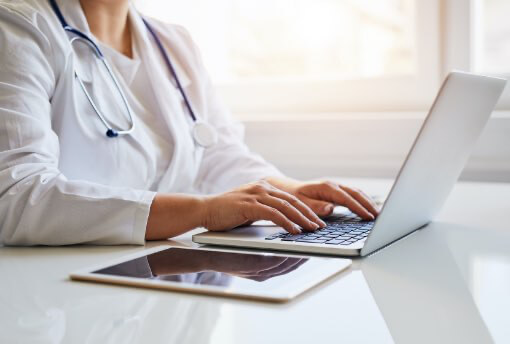 TECHNOLOGY
Innovation for an exceptional patient experience
Our clinics are connected to an integrated information architecture that allows for information sharing with our pharmacies and patient support programs, giving us a holistic view of each patient's needs and helping ensure a smooth treatment journey.
Appointment Reminders
Are you interested in taking advantage of our new mobile appointment reminder feature? Contact a member of our Coverdale Resource Centre directly at
1 866 210-0399, by email at texting@coverdaleclinic.com, or speak to your nurse during your next visit to learn more.