OUR HISTORY
Our mission is to simplify access to specialty care
Since 2001, BioScript Solutions has supported patients with chronic illnesses and rare diseases by providing access to complex drug therapies and delivering full-service specialty care solutions at every stage of their treatment journey. From our home base in Atlantic Canada, we've grown into a national network of clinics, pharmacies, and patient support programs serving thousands of Canadians every year. Even as we grow, we remain local at heart — committed to our communities and to putting patients first in everything we do.
Building on our health care roots, our core values reflect our commitment to putting patients first and help to shape, and inspire, every aspect of our company. We advocate for patients and build trusted relationships with pharmaceutical manufacturers, payors, prescribers and health care practitioners. And our uniquely collaborative, patient-driven culture shines through in every service we provide.
Learn more about life at BioScript
The BioScript story

Our co-founder, David Ford, sets up an infusion clinic in his Coverdale Road pharmacy so patients can continue to receive their medication when their Remicade clinical trial loses its host hospital. That first clinic is so effective, David is soon inundated with requests to open other clinics in New Brunswick and then throughout Atlantic Canada.

The Coverdale Resource Centre opens in Hillsborough, NB to support the administration of our ever-expanding infusion and injection clinics and a team that has grown to nearly 50 employees.

To further support patients in their treatment journey, Andrew Steeves joins his former mentor David Ford to create a Canadian pharmacy dedicated to specialty drugs. The inaugural BioScript Pharmacy processes its first prescription on August 4, 2009, in Halifax, Nova Scotia.

The company has operations in every Canadian province, with 55 Coverdale Clinics, 10 BioScript Pharmacies and more than 115 employees. To round out our offering and meet patient needs, we establish A&D Wholesale in Mississauga, Ontario in September 2012, allowing us to supply specialty pharmaceuticals to hospitals, health care providers and pharmacies nationwide.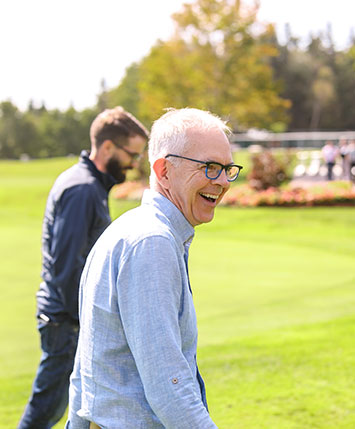 BioScript has more than 300 employees. We establish our home office in Moncton, New Brunswick and a corporate office in Oakville, Ontario. Our NavieGo patient support program launches in January 2016, enabling us to now support patients from enrolment and clinical treatments to dispensing medication and adherence, helping ensure they get maximum benefit from specialty drug therapies.

Our co-founders proudly receive Ernst & Young's 2016 Entrepreneur of the Year Award, Atlantic Region, for their vision, leadership and achievements as one of Canada's most successful entrepreneurs.

BioScript employs a diverse team of more than 1000 employees and operates over 100 Coverdale Clinics and 13 BioScript Pharmacies nationwide. A brand refresh and expanding portfolio of specialty service offerings including the expansion into 3PL with BioScript Logistics Ltd. opening in Mississauga, Ontario in September 2020, will continue to differentiate us in the marketplace as a full-service, single partner from importation through to patient support.

We're happy to have been recognized as an Employee Recommended Workplace by the Globe & Mail and Morneau Sheppell, and are honoured at the 2019 Environmental Leadership Awards for Eco-Philanthropy, Charitable Giving and Environmental Stewardship. Since 2021, we've been recognized as one of Canada's Best Managed companies.
Our Leadership
Our leadership team
Passionate about making patients' lives better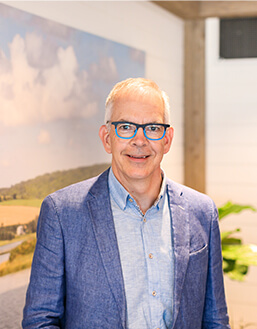 David Ford
Co-founder
"Our philosophy is to always put patients first and do what's right. We find a way to make it happen." When David was working as a retail pharmacist, a pharmaceutical representative came seeking support for a clinical trial that had lost its host hospital. Concerned for the patients, David set up an infusion clinic in his pharmacy to administer the medication. It was an unprecedented move in Canada at the time. That first clinic was so effective, he soon got requests for other clinics in New Brunswick, then throughout the Maritimes, and soon across the country. And so the BioScript Solutions journey began. David's innovative thinking has helped him build a unique, dynamic company focused on simplifying patients' access to specialty care. Today, he fosters partnerships with manufacturers and prescribers, champions a patient-centred culture, and regularly meets with the recipients of BioScript services to gather their feedback and ensure every decision the company makes improves their experience. A third-generation pharmacist, David earned his Bachelor of Science in pharmacy from the University of Alberta. He credits the company's success to an incredible team who all share his vision and dedication to improving patients' lives.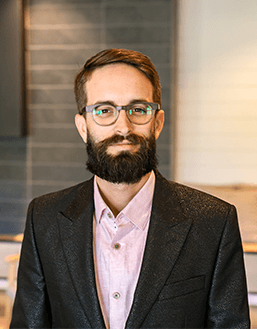 Andrew Steeves
Co-founder
"We've never tried to be the biggest. We just want to be the best at supporting patients."

Andrew's primary objective is to remove as much burden from patients as possible. In his mind, the fewer details patients have to think about, the more they can focus on what really matters: their health. That patient-first way of thinking is at the heart of BioScript Solutions — dedicated to supporting patients with complex needs who often have trouble navigating the system to access the therapies they need. Andrew practiced retail pharmacy before joining his former mentor, David Ford, to co-found BioScript Solutions. Today, his strong operational management skills helps him to oversee the planning, staffing and licensure of each new facility and the creation of proprietary software tools to enhance the patient experience. He also guides the company's strategic planning and goals, and remains as committed as ever to putting the needs of the patient above all else. Andrew holds a Bachelor of Science in pharmacy from Dalhousie University and welcomes every opportunity to prove that for him and for BioScript, being patient-centred is more than just words — it's a way of life.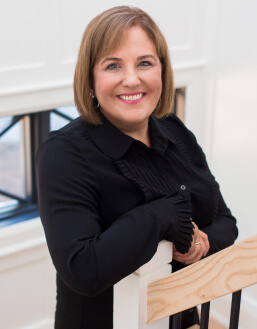 Heather Tulk
Managing Director
"We're obsessed with three things: caring for our patients, supporting our team members, and making a positive impact in our communities."

Heather believes that the most important part of her role is to curate an environment where the team continues to inspire each other to make it easier for patients to access the specialty care they need. As Managing Director, Heather leads the team at BioScript Solutions and is accountable for the organization's strategy and performance. Heather is known as an innovator with an ability to think strategically while ensuring operational delivery. Originally from St. John's, Newfoundland and Labrador, Heather has worked across many sectors and in every region of the country. BioScript's inclusive culture and dedication to helping people are well aligned with Heather's personal values. She is involved in many charitable and non-profit organizations and is a champion for mental health, youth services, and diversity and inclusion. Heather currently serves as chair of the Toronto Chapter of the International Women's Forum. Heather has a Master of Business Administration from Queen's University and a Bachelor of Commerce from Memorial University. She also holds an ICD.D designation from the Institute of Corporate Directors and is a Chartered Marketer. With 'the sea in her veins' Heather's favourite place is by the water — either in her kayak or sitting on the shore watching the sunset.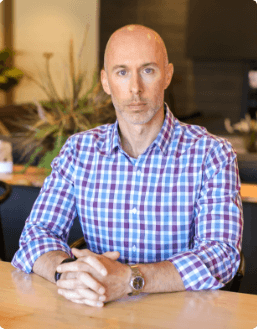 Ian Moores
Chief Financial Officer
"We're dedicated to providing an exceptional level of service. You can only do that if your financial house is in order."

The way Ian sees it, teamwork and an optimal patient experience go hand in hand. He believes that team-oriented ethos is at the heart of BioScript Solutions' way of working: everyone in the organization supports each other to deliver the best possible service to clients. As CFO, Ian and his team provide the solid financial foundation for that tight-knit collaboration. He brings more than 20 years' experience in financial management, auditing and taxation to his role at BioScript. Before joining in 2010, he spent eight years working in banking and capital markets in Bermuda, where he earned the designation of Chartered Financial Analyst. Ian holds a Bachelor of Science in Mathematics from Acadia University.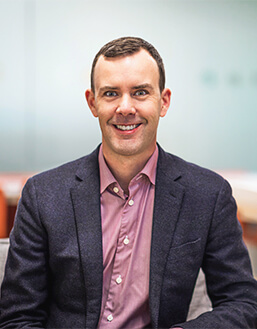 Chris Dalseg
Vice President, Strategic Growth and Marketing
"It's all about the outcomes and downstream impacts for patients."

Chris's experience in community pharmacy instilled in him a genuine appreciation of what patients need. He brings that understanding to his work at BioScript Solutions, ensuring that the company's operational decisions and business plans are always made with the patient in mind. As a strategic leader, Chris contributes to BioScript's growth by developing and fostering relationships with industry partners and pharmaceutical manufacturers. Before joining the BioScript team in 2012, Chris practiced pharmacy in a variety of settings, including both banner and independent stores. He served as president of the Ottawa-Carleton Pharmacists' Association for five years, contributing to key initiatives on the evolving role of pharmacists in the Canadian health care system. Chris holds a Bachelor of Science in Pharmacy from Dalhousie University. He sits on the board of the Neighbourhood Pharmacy Association of Canada and the advisory board of Connex Health's Benefits Breakfast Club. When he's not at work, he likes to spend his time enjoying the outdoors with his family.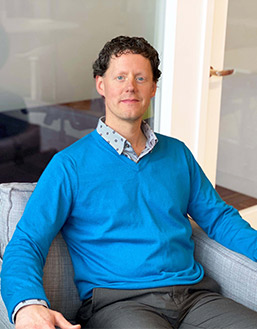 Marc Grenier
Vice President, Operations
"There is never a time when 'no' is the answer to a problem."

As a pharmacist, Marc has always based his decisions on what is in the patient's best interest. He continues to bring that focus to his role in operations, ensuring the patient journey is front and centre in every process BioScript develops. Marc actively helps maintain BioScript's operational excellence, sharing best practices throughout the company and championing its consistently high level of service from coast to coast. He joined BioScript in 2012 as the New Brunswick pharmacy's first pharmacy manager, progressing after a few years to Director of Pharmacy Operations and eventually to Vice President. Today he spends his days innovating and developing processes to remove barriers and help patients get access to specialty treatments faster. Marc holds a Bachelor of Science in Pharmacy from Dalhousie University. Outside of the office, he's usually on the field (or court, or rink) coaching his children's sports teams.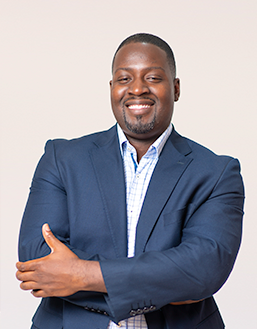 Emmanuel Tackie
Vice President, Strategy and Innovation
"The focus of our innovation is to ensure we continue to provide the best experience across every step of the patient journey."

Emmanuel is a technology innovator and strategic leader with expertise in digital transformation, project management, and Information Technology. Over the past 20 years, Emmanuel has applied his passion for designing and delivering business-focused Information Technology solutions to various roles in management consulting, building project management practices, running Information Technology operations, and directing software development and program management teams to help companies achieve breakthrough growth. At BioScript, Emmanuel leads our Strategy and Innovation, Project Management, Information Technology Operations, and Information Technology Development and Data Analytics teams. Emmanuel is dedicated to ensuring all team members at BioScript are fully enabled to provide the best possible care to our patients.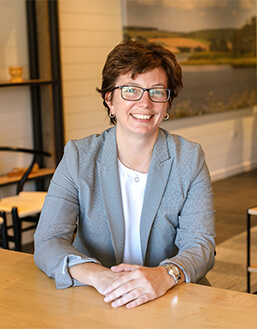 Kelly Isaacs
Vice President, Patient Support Programs
"Making a difference to patients is what inspires me every day."

For Kelly, patient support programs aren't just her professional specialty: they're personal, too. When a family member was enrolled in one, it gave her unique insight into the patient experience that she applies every day as she works with pharmaceutical manufacturers to design and implement support programs that put patients first. When Kelly joined BioScript in 2018, her experience leading patient support programs covered a wide range of functions from operations management to strategic oversight and executive-level partnerships. Kelly holds a Bachelor of Human Kinetics from the University of Windsor. She is a passionate advocate for a range of causes, including greater access to hospice care, eliminating violence against women and promoting leadership in sports. She is also the founder of an annual leadership bursary for the Chatham Girls Minor Softball Association. In 2017, Kelly received a Pursuit of Purpose award for her contributions to workplace culture.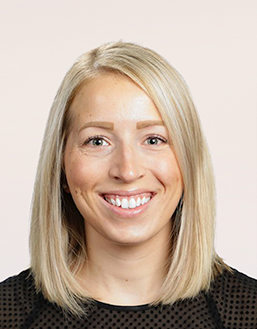 Kelly Thompson
Director, People and Engagement
"Our team members are the key to our success. We are committed to fostering a culture that enables their development and success and celebrates being valued members of the Best Team!"

Kelly joined BioScript in May 2020 and was recently appointed to the role of Director, People & Engagement, overseeing the HR strategy across all of our divisions. Kelly is an experienced human resources professional, with over 12 years of progressive experience in a variety of human resources assignments. Kelly is a graduate of St. FX with a Bachelor in Business Administration and has completed the Human Resources Management Program at UNB, she has also completed numerous continuing education programs in change management, leadership and business improvement and holds a CPHR designation. Outside of work, Kelly enjoys camping, reading and spending quality time with her husband and two daughters.
Life at BioScript
We offer a rewarding, dynamic workplace for careers in health care and patient support, fostering a culture of collaboration, innovation and — most importantly — inspiration.