specialty distribution
Specialty medications shipped coast to coast
Our A&D Wholesale operations has more than a decade of experience in distributing cold chain and temperature-sensitive specialty and biologic pharmaceuticals. We ensure hospitals, health care providers, and retail pharmacies across Canada receive the medications their patients depend on quickly and reliably.
work with us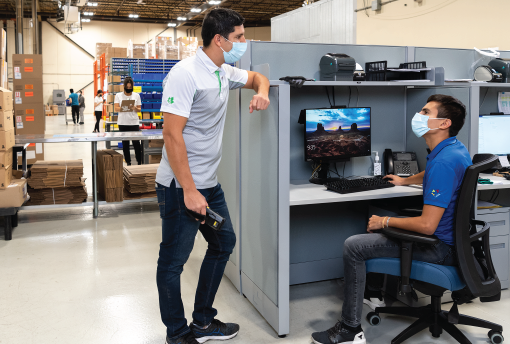 Safely stored, safely shipped
Delivering the highest quality standards
We monitor our inventory closely, hold a Medical Device Establishment license and work with manufacturers to ensure we have a ready supply of a broad portfolio of specialty drugs. When it comes to maintaining the required conditions to preserve biologic drugs' quality and efficacy, we're exacting and precise, relying on technologies that ensure we are in full compliance with Health Canada regulations. To uphold quality and safety standards, we continuously monitor our warehouse, adhere to Good Manufacturing Practices, detailed shipping procedures, and leverage the latest in packing technologies.
Our advanced, seasonally appropriate pack-outs are designed to withstand Canada's extreme weather conditions and keep contents within designated temperature ranges well beyond the expected shipping window. With an on-site thermal chamber, we're continually innovating and testing improvements to our packaging solutions to make sure medications always arrive at their destinations in ideal condition. We simplify the delivery of specialty drugs by shipping through a certified carrier well-versed in transporting time-sensitive pharmaceuticals.
Delivering more than products
Comprehensive quality assurance and control measures help us keep our wholesale pharmacy distribution centre running smoothly and safely — from continuous temperature monitoring and our cold chain management system to intelligent logistics software that actively manages inventory volumes. Our information systems are fully integrated with our pharmacies and patient support programs for seamless one-stop distribution flow. While our ordering system, including an online portal, email or fax, make it easy for you to quickly set up an account and place an order.
Contact us to learn more about our wholesale distribution services
Responsible to our community and our environment
Our package return program helps us keep materials out of landfills by reusing packaging components. In 2021 alone, we reused more than 71,000 coolers and 411,000 gel packs. We're also a proud recipient of the Environmental Leadership Awards for Eco-Philanthropy and Charitable Giving, and for Environmental Stewardship, in recognition of our efforts.
life at bioscript
Our people say it best
We offer a rewarding, dynamic workplace for careers in health care and patient support, fostering a culture of collaboration, innovation and — most importantly — inspiration.
Wholesale client portal
Access our order management portal to place, manage your orders, and review your account information. You'll also get access to product availability and insights into your purchase history. To register for an account, call 1-855-856-1729 or email orders@andrx.ca.