Part of the patient's extended health care team
A patient's treatment journey can be long and complex. We streamline the experience to ensure they have someone to rely on at every touchpoint. Our goal is to help provide continuity between your appointments with patients and to provide additional support. We help ensure patients have coverage and access to the complex drug therapies you prescribe. We draw on our pharmacy and nursing expertise to ensure they're responding well to treatment, and take time to answer their questions in depth so they can proceed with confidence. We monitor patient outcomes, keeping you informed along the way.
work with us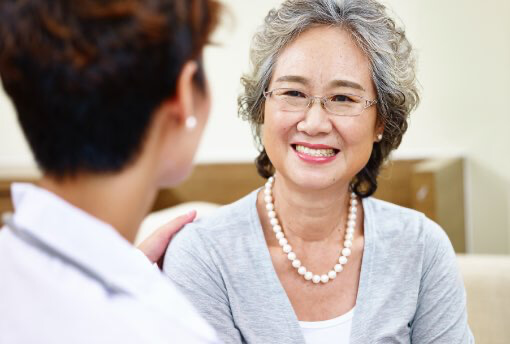 Services to support your patients
We share your commitment to achieving the best possible outcomes for your patients
Pharmacy
Our pharmacies are dedicated to ensuring patient adherence to the therapies you prescribe. We provide in-depth patient monitoring, consultations, education, and ongoing support including regular follow-ups and proactive refill reminders. Whether patients are self-administering at home or receiving treatment at a clinic or hospital, we deliver their medications wherever they need them to be, when they need them.
Learn more about our pharmacies
Clinics
Our Coverdale Clinics provide a safe and comfortable environment for patients to receive treatments by injection or infusion. Each clinic is staffed and led by experienced nurses trained in administering specialty and biologic drugs, including how to handle adverse drug reactions. We get to know your patients and act as a second set of eyes and ears, monitoring their wellbeing at every visit and sharing that information with you.
Patient support programs
When you enroll your patients in a NavieGo patient support program, they get comprehensive assistance tailored to their specific condition and therapy. To ensure your patients have the best experience possible, we work with payors and pharmaceutical manufacturers to navigate the reimbursement process, arrange medication delivery and conduct regular check-ins to ensure maximized medication adherence and optimized outcomes.
Learn more about our patient support programs
What our patients are saying
" (The BioScript Pharmacy in Alberta has an) amazing location and nice clean facility. Everyone went above and beyond to make the process go smoothly and I cannot thank them enough. "
" I was taken care of like family. The nurses went above and beyond. I am so very thankful for your help. Thank you Coverdale Team and everyone else involved! Very pleased. "
" I am so happy with the model you have set up (at the clinic), it was so welcoming, and it felt safe and professional. I have not received care like this in the last 20 years. "
" The team here has been amazing at helping me navigate complex coverage situations, going above and beyond to help me get medication when travelling, and being proactive about reaching out when my next dose is due. Could not be a happier customer! "
" Incredible pharmacy that makes life so much easier for those who use biologics. They deliver to my door whenever I want, and the staff is amazing and helpful. "
" The Coverdale nurse made me so comfortable it felt like I was at home. She made sure I was aware of everything before beginning treatment and checked in frequently to make sure that I was feeling okay. Thank you Coverdale Clinic Team! "
"Thank you for your professional, caring, efficient and kind assistance administering my injections for my Crohn's Disease. I always felt like I received excellent care and the clinic was extremely well run. I will miss your warmth, humour, and of course, the short bread cookies."
"Thank you from the bottom of our hearts. Mr. Rashid I must tell your entire staff has been absolutely outstanding, every time I had the pleasure of interacting with each and every member of your team it was a wonderful experience. Always personable; always accommodating."
" I appreciate your recent individual attention regarding the potential cost to me for an injection under expired insurance. You took the time to advise me of this months before my scheduled appointment and ended up saving me over $500. "
" I have appreciated all the times staff have given me their utmost attention when I have called with medication concerns and their follow-up calls to see how I was doing. "
" I have been very happy with BioScript Pharmacy's complete worry-free management of my pharmaceutical needs. They have been superb with their service. 5 stars. "
" I want to thank you so very much for your professional and hospitable service. With injections, my wife has been migraine-free for the first time in 50 years! This has dramatically improved her quality of life, and we cannot thank you enough. "
" The Coverdale Clinic team was amazing to fit me in last minute as an "urgent patient" with my flare up of Ulcerative Colitis. I am so grateful they accommodated me into their schedule. Breann was very professional and sympathetic, I am so very thankful for her help. "
" Your customer service was always spot-on, timely and very professional. You made the process of getting the medication seamless. I also appreciated the option to return the packaging to you so it could be reused. "
" BioScript has been extremely helpful getting my prescription to me even when I was away from home. They go above and beyond with customer service. Everyone I have had contact with has been friendly, helpful and informative. I couldn't ask for more. "
Switching your patient to a biosimilar?
We're here to help. With over 20 years of patient-centric experience, we share your commitment to provide quality patient care — and we have the knowledge, skills, and facilities to help you. Throughout this transition, our clinics and pharmacies will continue to support your patients by providing the services they need to navigate their new treatment journey.